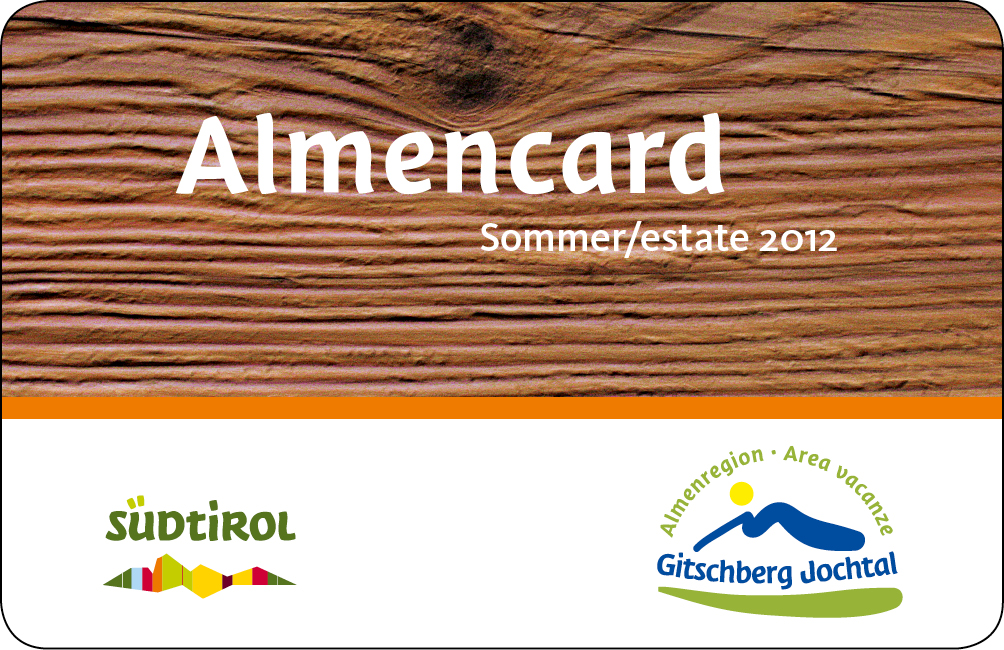 Almencard


Experience the best of the High Alpine pasture region – all inclusive!

30 Alpine pastures and 3 mountain cable cars in 1 holiday destination from 26th may to 14th of cotober 2012

The success of the "Almencard" will continue for another year by offering summer visitors to our region a very specific range of services: action, adventure, mobility, cable cars and all manner of variety for the entire family, included in one unique event card. The Almencard offers a large number of facilities for you! From the very first day of your holidays you may enjoy the benefits of the Almencard. Enjoy the free use of funiculars and cable cars as well as the access to the entire support programme of the High Alpine pasture region, free of charge. Moreover, Almencard holders can obtain special prizes and bonuses from all participating partners. You may obtain the Almencard free of charge from your host.
The holiday area of Gitschberg Jochtal is worth visiting at any time of the year, in every sense of the word.
You will receive your free Almencard from your host and it is valid for your whole stay between 26th may
and 14th October 2012.
Please present your Almencard at the cable car stations, when booking a guided tour or when purchasing at our partners.
The Almencard offers many inclusive services:
1. Gitschberg cable car
2. Jochtal cable car
3. Rio di Pusteria/Mühlbach-Maranza/Meransen cable car
4. Shuttle bus Rio di Pusteria/Mühlbach-Alps of Rodeneck
5. Peak hike at Mountain Gitsch in Maranza/Meransen
6. Farm to farm tour in the valley Val di Fundres/Pfunders
7. Bee stories – everything about honey & bees
8. Health-oriented walking tours devised according to Kneipp through the valley of Altafossa/Altfasstal:
enjoy summer in the mountains with cool streams and scented meadows according to the
natural health system of Kneipp
9. Village tales… visitors can hear of a past filled with courageous farmers, a beautiful heroine
and dark bunkers: all during a historic hike to the High plateau of Spinga/Spinges
10. Cultural visit at the Mühlbacher Klause ruin
11. Sun-rise hike in Valles/Vals at 2000 m above sea level
12. Hike through the golden autumn (from mid September)
13. Krixly Kraxly climbing course for children from 5 to 9 years in Valles/Vals
14. "Kletterhetz" climbing course for children from 10 to 14 years
15. Ancient walls, young wine – visit of a biodynamic winegrower
16. Knight games for children at the Mühlbacher Klause ruin
17. Excursion on horse-drawn sleigh for children in Maranza/Meransen
18. Discounts in shops, leisure facilities and museums